Silvermoon Software Solutions provides software platforms, solutions and services for digital financial services.
Our team is dedicated to helping you achieve your pioneering goals with a continuous platform that can help unlock your imagination. Whatever your goal is, we are here to help you dream and achieve relentlessly.
Our Vision
We set actuaries' imaginations free.
Our vision is to become the future-tech platform that takes financial services providers beyond the borders of what is currently possible into a world where their cutting-edge visions are brought to life.
Our Mission
To enable financial services companies to continuously and swiftly realise their cutting-edge visions faster than competitors and at scale.
Our History
Silvermoon Software Solutions was founded on a vision to create a software platform that would allow financial services companies to solve problems faster and simply with a more streamlined experience.
After collaborating at Liberty Life on a project with IBM using IBM's Insurance Application Architecture in 2002, the founders realised that the architecture could help leapfrog business solutions speedily and predictably at customers.
Furthermore, that could be done with far less risk if the architecture could be translated into software componentry. It was clear that the componentry could be reused to construct a variety of solutions for Insurance and other Financial Services companies. An opportunity at a Johannesburg-based insurer in 2004 provided the opportunity to start the journey.
Over the past two decades, the software platform has evolved significantly and is proven to be rich in functionality, scaleable and cost-effective with a high degree of built-in reuse potential.
In 2007, Silvermoon Software Solutions Belgium was established giving the company a global presence. The strategy from thereon would be to market and support our software solution internationally.
Together with our partners, over nearly two decades of the new internet-enabled millennium, we have helped and inspired more than 15 leading financial service companies across the world to envision and enliven innovative and transformative solutions.

User Bases
Our extensive user footprint spans the world. We support leading financial services companies by continuously implementing innovative products and services in eleven countries on five continents and one island.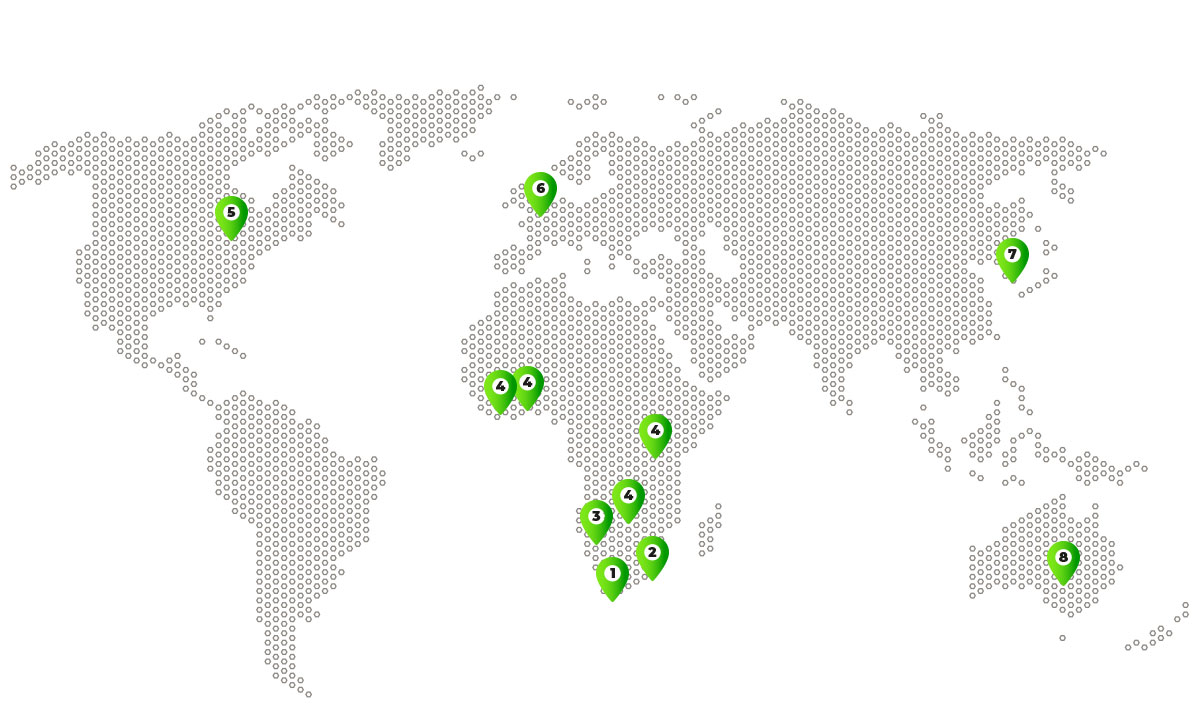 Silvermoon Projects that delivered solutions in production
The Mthunzi Network is a "digital aid solution" that was created during the Covid pandemic to provide electronic vouchers to people in need. With these vouchers people could buy goods in certain supermarkets. The project was executed benevolently by Silvermoon in collaboration with GLU.global, and the South African Council of Churches. Tens of millions of South African Rands were distributed with the system.

Proof of Concept for employee benefits at Discovery. The POC illustrates how LUNOS elegantly deals with the concepts of "group contract" and "individual benefits" and how both Risk Coverages and Pension Benefits can be administered in the same system. Although the result of this POC was very well received at Discovery, the project is currently on hold because they have other priorities after the pandemic.

Billing and Collection, Policy Admin and Claims. Products supported here: Life, Disability. Geographies: South Africa, Namibia, Australia. PPS is the insurance company where the story of LUNOS began. We started the PPS engagement in 2005.

aYo is a subsidiary of MTN – a major telecommunications provider in Africa. aYo provides micro-insurance with Hospital and Life cover and currently services Uganda, Ghana, Zambia and Ivory Coast. We are currently rolling out the system in Nigeria, which is expected to be completed in November 2022.

The LUNOS-based core insurance system for aYo serves just under 20 million customers in a scalable cloud deployment. Customers purchase insurance cover with their cell phones by means of USSD transactions. These transactions are converted by MTN in Rest calls on the LUNOS-based core insurance system. The system handles between 3 and 4 million https transactions per day. The execution of the project is done by Silvermoon staff and aYo staff together.
This project delivered production support for commercial auto policies in several states in the USA. This shows that LUNOS can handle not only individual insurance but also commercial insurance with fleets of risks. Also important is the support for managing product variations per geography (each state in the USA has its own insurance rules and regulations).

The Negative Equity Protection product insured home owners against the risk of a drop in the value of their property under the value of the outstanding balance of their mortgage, at a time when they needed to sell. The insurance company went bankrupt in 2009 leaving Silvermoon with a financial debacle we overcame in subsequent years.

Hanwha Life is the second largest Life Insurance company in South Korea with a portfolio of 11 million life insurance policies. We provided training to staff at Hanwha Life and Hanwha Systems to enable them to work with the LUNOS platform. Subsequently Hanwha Systems was able to deliver the project by themselves with only sporadic advice needed from us. The system is in production since September 12th, 2022.

Founded by PPS from Johannesburg, South Africa, PPS Mutual Australia provides Life insurance through the Superannuation rules for retirement benefits. Using the Silvermoon software as the basis for its administration systems, great flexibility is achieved through an innovative way allowing customers to structure their benefits themselves on their Super or Non-Super plans.
CONTACT US
Founding Team
Every decision we make is guided by your cutting-edge vision, backed up by exceptional service, trusted advice, and inspiration at every step. Let's relentlessly break through boundaries and set your imagination free, together.

Koen De Maesschalck – ceo
Koen is a co-founder, Chief Architect and ceo at Silvermoon Software Solutions. An actuary by profession, Koen cut his teeth in health and life insurance at KBC, a leading insurer in Europe. Koen also played a lead role in developing the IAA architecture in IBM's financial services solution lab in La Hulpe, Belgium.

Renée Brooks – Director
Renée is a co-founder and Director of Silvermoon Software Solutions and has directed the company since its inception in South Africa in 2003. A computer science graduate specialising in delivery of large pioneering systems transformations which include breakthrough technologies, Renée has an unparalleled delivery track record with leading Fortune 500 clients.
Quenten Friday – Enterprise Architect
Quenten is a co-founder of Silvermoon Software Solutions. He has unmatched experience in enterprise and solution architecture over 20 years across multiple geographies and Fortune 500 clients. He provides direction and trusted advice as a high-level consultant to many organisations. His unique understanding of the financial services domain and the application of technology to that domain is well recognised.
Get in Touch
Contact Silvermoon Software Solutions to enquire about our innovative digital platform for leading insurance companies.