LUNOS-Based Headless PAS Enables aYo's Microinsurance in Africa
A joint venture of MTN and Sanlam, aYo is an Insurtech business operating in a growing number of African countries. Having started in Uganda, aYo then ventured into Ghana, Zambia, and Ivory Coast, with imminent deployments to Nigeria and other African countries.
The clients in the African microinsurance market often don't have access to smartphones, using instead feature phones or basic phones, without web-browsing capabilities. Using such phones, clients can interact with the telecommunication providers using USSD codes. A typical use of these codes is loading airtime from a voucher purchased in a shop. aYo builds on this to allow clients not only to enroll for insurance cover but also to pay premiums, add beneficiaries, modify cover and make claims from their insurance cover, making USSD a complete front-end channel for the insurance company.
In addition to the USSD channel, aYo also uses progressive web applications (PWA) that provide modern apps that enable the same functionality on smartphones and web browsers for their clients, agents, and internal staff.
aYo is using Silvermoon's LUNOS platform for policy management. LUNOS' openness has enabled aYo to expose services that can be used by both their USSD and PWA channels. Another fundamental feature of LUNOS is its ability to add insurance products at runtime. For this, LUNOS provides a service which enables clients to release new products defined by their product modelers.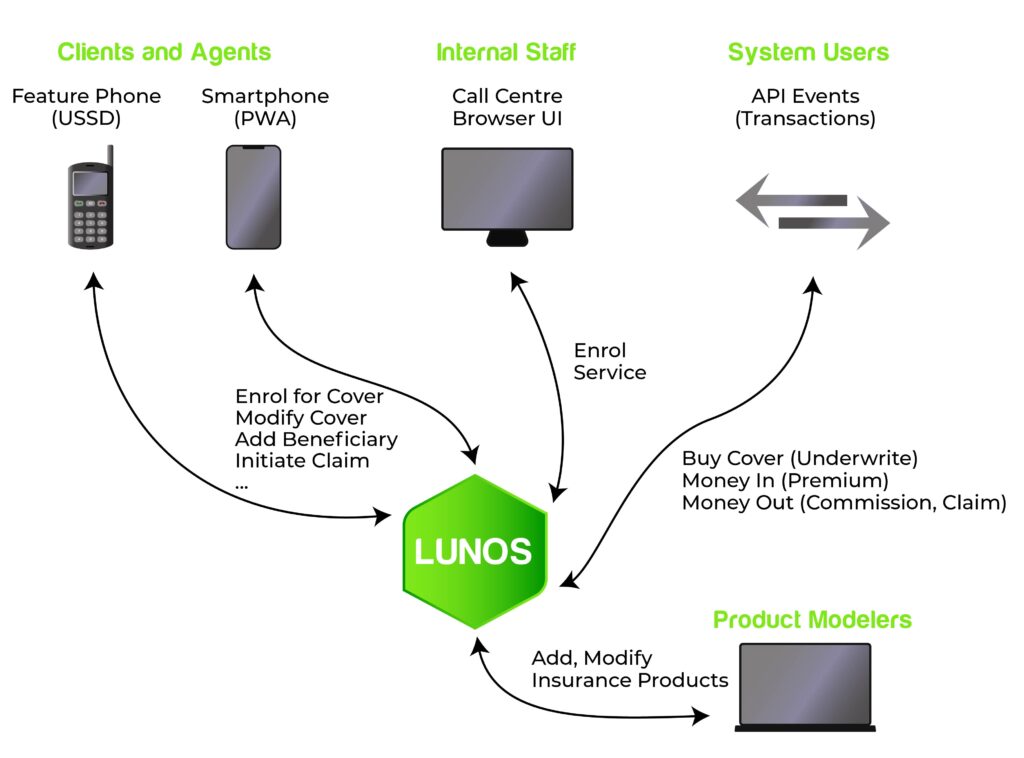 For more information contact us through sales@silvermoongroup.com